Sports
"Inside Scoop: Suzy Whaley Talks Lexi Thompson's Power and Prospects at Shriners Children's Open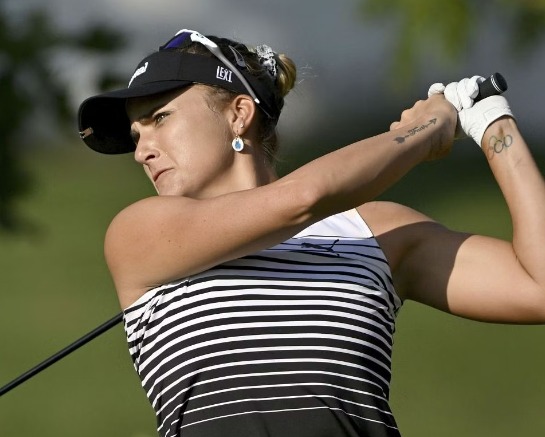 Lexi Thompson is set to make history as she becomes the seventh female golfer to join the PGA Tour. She has accepted a sponsor's exemption to participate in the upcoming Shriners Children's Open. Thompson boasts an impressive record with 11 LPGA victories and is renowned for her remarkable driving distance on the Ladies Tour.
READ:Yashasvi Jaiswal's Century and Rinku Singh's Blitz Power India to 202/4 in Asian Games Clash
Nonetheless, Lexi Thompson's inclusion has sparked some criticism within the golf community. Some have labeled her participation as a 'gimmick,' while others have raised concerns about her speed and power. However, in the face of such scrutiny, Suzy Whaley, another accomplished female golfer who has also competed on the PGA Tour, stands as a staunch defender of Thompson's historic decision.
Lexi Thompson
During an interview on SiriusXM PGA Tour radio, Suzy Whaley discussed the challenges of competing in a predominantly male field, emphasizing the need to approach the championship with the mindset of a professional athlete. She also addressed criticisms related to Lexi Thompson's driving distance, noting that while some may claim it falls short of the 184th-ranked player on the PGA Tour by 30 yards, Thompson has consistently demonstrated the ability to drive the ball over 300 yards.
Whaley firmly believes in Lexi Thompson's exceptional skills and anticipates that they will prove themselves in competition against the rest of the field. However, she also pointed out that the widespread use of social media today has contributed to the heightened scrutiny surrounding the situation.
"She's undeniably one of the world's top female athletes. The challenging aspect, and Lexi can attest to this, is that I didn't have to navigate this under the constant glare of social media. During my time, I received handwritten letters at my home, both offering support and critique, but it's a different ball game with social media," Whaley remarked.
Suzy Whaley Staunchly Supports Lexi Thompson Ahead of 2023 Shriners Children's Open
While acknowledging that there are both advantages and disadvantages to accepting a sponsor's exemption and competing on the PGA Tour, Whaley emphasized that those who have experienced it firsthand are best positioned to appreciate the outcomes.
"She has endured a tremendous amount of scrutiny and pressure. Those of us who have played in similar situations understand that not everyone will agree with it. We comprehend the pros and cons involved. It's about realizing that you're occupying a spot that someone else is vying for to make a living out there. We are well aware of both sides for those of us who have experienced it."
As Lexi Thompson prepares for the Shriners Children's Open, she carries with her a positive attitude and a hope to serve as an inspiring example for young female golfers in the generations to come.