Tech
Synthetic Biology and Cutting-Edge Compounds: Nobel Chemistry Prize Contenders Revealed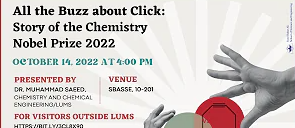 The Nobel Chemistry Prize, set to be announced on Wednesday, is generating buzz in several research fields, including synthetic biology, DNA sequencing, and innovative compound development. The Royal Swedish Academy of Sciences in Stockholm is scheduled to unveil the prestigious award winner(s) at the earliest possible time, 11:45 am (0945 GMT).
READ:I fear no one, but respect everyone. – tymoff
Prominent contenders for the award include US-based scientists James J. Collins, Michael Elowitz, and Stanislas Leibler, recognized for their pioneering work on "synthetic gene circuits," a groundbreaking contribution to the field of "synthetic biology." This interdisciplinary field merges engineering principles with biotechnology to manipulate or create novel organisms. However, some consider this field controversial due to ethical concerns regarding the creation of life.
Nobel Chemistry Prize
Another strong contender, according to Clarivate, is the duo of Indian-born Shankar Balasubramanian and Briton David Klenerman, credited with co-inventing a "next-generation DNA sequencing methodology" that has revolutionized biological research.
Japan's Kazunori Kataoka, along with Russian-American Vladimir P. Torchilin and American Karen L. Wooley, are also highly regarded candidates for their pioneering work in developing innovative methods for drug and gene targeting and delivery.
Last year, the Nobel Chemistry Prize was awarded to Dane Morten Meldal and Americans Carolyn Bertozzi and Barry Sharpless for their groundbreaking contributions to click chemistry and bioorthogonal chemistry. This achievement made Barry Sharpless one of only five individuals, excluding organizations, to have received two Nobel prizes.
This year, according to Lars Brostrom, a standout candidate is American-Jordanian scientist Omar Yaghi. Brostrom highlights Yaghi's pioneering work, demonstrating that custom-designed porous materials, known as MOFs (Metal–organic framework), are not merely theoretical concepts but can be created sustainably and put to practical use. These MOFs now find application in commercial products, including toxin absorption and decontamination, catalytic processes, and even extracting water from desert air.
Omar Yaghi's name has previously been mentioned in connection with Japanese scientists Susumu Kitagawa and Makoto Fujita, who are also recognized as pioneers in the field of porous materials.
Additionally, Stanford University's Professor Zhenan Bao has been considered a potential Nobel laureate due to her groundbreaking work on "artificial electronic skin," which involves the development of materials for stretchable circuits and flexible batteries.
Another field with Nobel-worthy potential is tissue engineering, where American scientists Cato Laurencin, Kristi Anseth, and Robert Langer have made significant contributions.
In related Nobel news, the recent Nobel Prize in Physiology or Medicine was awarded to Katalin Kariko and Drew Weissman for their pivotal work on messenger RNA (mRNA) technology, which laid the foundation for revolutionary Covid-19 vaccines.
While Katalin Kariko and Drew Weissman's work had garnered attention as potential Nobel laureates in both medicine and chemistry, many experts believed that despite their significant impact on the pandemic, it might have been too early for them to receive the honor, as Nobel juries often wait for decades before recognizing achievements.
On Tuesday, the Nobel Chemistry Prize in Physics was awarded to Pierre Agostini, Ferenc Krausz, and Anne L'Huillier for their groundbreaking research in developing ultra-fast light flashes, enabling the study of electrons within atoms and molecules.
Following the Nobel Chemistry Prize, the world eagerly awaits the announcements of the Nobel Chemistry Prize in Literature on Thursday and the Nobel Peace Prize on Friday. The Nobel season concludes with the announcement of the Nobel Prize in Economics on Monday.
The Nobel Chemistry Prize laureates will receive their prizes, which include a medal and a $1 million check, at a prestigious ceremony in Stockholm on December 10, commemorating the anniversary of scientist Alfred Nobel's death in 1896. Nobel established the prizes in his last will and testament.