Entertainment & Arts
ASCAP Unveils Music Powerhouses! Grammy-Nominee, Industry Maverick, & Trailblazing A&R Director Take Center Stage!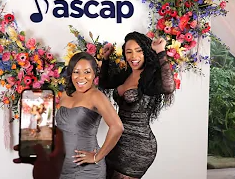 New York, Nov. 8, 2023 /PRNewswire/ –ASCAP The American Society of Composers, Authors and Publishers (ASCAP) is thrilled to announce the distinguished honorees for the upcoming 15th annual ASCAP Women Behind The Music event. The event is scheduled to take place on Thursday, November 16, in Atlanta. This year's honorees include Grammy-nominated singer and songwriter Summer Walker, LVRN Executive Vice President and General Manager Amber Grimes, and Atlantic Records Senior Director of A&R Sammye Scott.
READ: "Country Music Icon's Shocking Awards Show Protest Revealed: The Untold Story Behind Alan Jackson's Bold Stand for Tradition"
Presented by the ASCAP Rhythm & Soul department, the Women Behind The Music event serves to recognize and celebrate the achievements of inspiring women in the music community. The honorees encompass a diverse range of roles, including songwriters, artists, managers, attorneys, label executives, and music publishers.
ASCAP
Nicole George-Middleton, ASCAP Senior Vice President of Membership and ASCAP Foundation Executive Director, expressed the significance of the event, stating, "ASCAP Women Behind The Music is a special occasion for us as we acknowledge incredibly talented women who have made a significant impact through their art, contributions, and leadership. It provides a unique opportunity for our community to connect in person. We take pride in continuing our efforts to inspire women to pursue careers in music, both as creatives and executives."
Nicole George-Middleton will personally congratulate the 2023 honorees:
Summer Walker, Grammy-nominated singer and songwriter
Atlanta-based singer/songwriter Summer Walker gained prominence with her breakout mixtape in 2018, titled "Last Day of Summer." Her official debut album, "Over It" (LVRN/Interscope Records), featuring multi-platinum singles "Come Thru" and "Playing Games," solidified her position as one of R&B's prominent stars. Walker's sophomore album, "Still Over It," achieved #1 status on the Billboard 200. Her remarkable journey has been adorned with accolades from the Soul Train Music Awards, iHeart Music Awards, Billboard Music Awards, and the ASCAP Awards, culminating in her first-ever Grammy nomination.
Amber Grimes, Executive Vice President and General Manager, LVRN
Amber Grimes, a powerhouse in the music industry, serves as the EVP and General Manager of Love Renaissance (LVRN) Records. She oversees the daily operations of the company's divisions and drives marketing strategies for their full roster of artists. Grimes, previously the Senior Vice President of Global Creative at Capitol Music Group, reconstructed the creative department and led global content strategy. With a career spanning various roles, including Senior Manager of Artist & Label Marketing at Spotify, Grimes is also the CEO of her full-service marketing firm, The Cardi Brand Agency. Beyond her professional achievements, she advocates for mental health, wellness, and mentorship in the music industry.
Sammye-Ruth Scott, Senior Director of A&R, Atlantic Records
Sammye-Ruth Scott, a trailblazer in the music industry, serves as the Senior Director of A&R at Atlantic Records. Her goal is to create lasting entertainment experiences in the evolving hip-hop community. Before joining Atlantic, Scott served as President of A&R at BuVision, where her successes included signing rising star Kaliii and striking deals with notable producers. Recognized as a Woman of Empowerment by Lobos 1707 and listed among Atlanta's Top 20 Under 30 Millennials in 2017, Scott actively contributes to charitable organizations, including Meals on Wheels, Project Go Dark Internships, and Reading with Rari.
The November 16 event will feature music by DJ Tee Y. Past Women Behind the Music honorees include industry luminaries such as Kandi Burruss, Kelly Rowland, Shari Bryant, Joelle James, Nicole Wyskoarko, Salt-N-Pepa, Jazmine Sullivan, Victoria Monét, Sheila E., Brittney Davis, Nova Wav, Phylicia Fant, and more.