Sports
Matteo Berrettini Responds to Girlfriend Melissa Satta Hosting Ryder Cup 2023 Opening Ceremony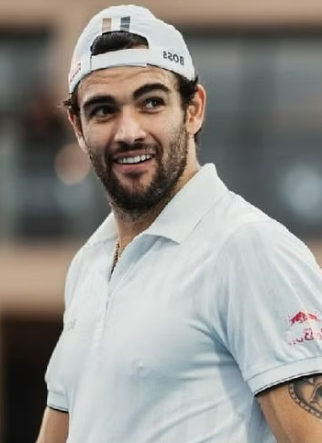 Matteo Berrettini recently expressed his pride for his girlfriend Melissa Satta, who hosted the opening ceremony of the Ryder Cup 2023 in Rome on Thursday.
The Ryder Cup is one of the most prestigious and exciting events in golf, where teams from Europe and the United States compete for glory. Satta, a popular television presenter and model, recently landed the gig as host of the ceremony.
READ:Sports Across America this January
Satta stepped up to the podium to present the coverage of the opening ceremony ahead of the tournament tee-off. She sported an oversized white pantsuit, which contrasted with the blue backdrop of the stage. She looked elegant as she welcomed the audience and introduced the players and captains of both teams.
Matteo Berrettini
The couple recently attended the Ryder Cup gala dinner in Rome, where they made a stylish statement with their matching outfits.Matteo Berrettini looked dashing in a navy and white ensemble, while Satta opted for a glittering black and white outfit. She shared videos and photos of their glamorous gala night on social media, giving fans a glimpse of their elegant attire and the event's festivities.
Matteo Berrettini has faced a challenging year marked by injuries that have impacted his performance and ranking in the world of tennis. His struggles began with an early exit from the Australian Open, where he was eliminated in the first round. Subsequently, he took a two-month break from the sport due to injury concerns. His woes continued as he had to withdraw from the Monte-Carlo Masters just before his third-round match due to an abdominal issue.
Despite these setbacks, Matteo Berrettini made a comeback during the Stuttgart tournament and reached the round of 16 at Wimbledon. However, his journey was cut short at the US Open, where he had to retire from his second-round match due to an ankle injury that caused him considerable pain. Unfortunately, the injury also prevented him from representing Italy in the 2023 Davis Cup, adding to the challenges he has faced in the past year.
In a recent interview with Sky Sports Italy, Matteo Berrettini provided an update on his recovery from his most recent injury and acknowledged the mental challenges he has faced due to multiple setbacks this year.
"I'm recovering well, and the injury turned out to be less serious than expected," he stated. "Interestingly, after the series of setbacks I've experienced this year, I felt more injured emotionally than physically. These days of recovery have helped me rediscover the right mindset, and the thought of being able to play in Malaga is energizing," he added.
The 27-year-old also expressed that the period he spent away from the tennis court played a crucial role in helping him reconnect with his love for the sport.
"Those were tough moments, ones I didn't enjoy. However, they were pivotal in allowing me to rediscover the reasons for the joy I felt when I first started playing as a child—a passion that has been a part of my entire life," he remarked. "During that time, I reflected on my beginnings to find myself again. In a way, the darkness provided me with the opportunity to do just that."
CONCLUSION
In conclusion, Matteo Berrettini, despite facing numerous setbacks and injuries in his tennis career this year, remains resilient and determined to make a strong comeback. His support for his girlfriend, Melissa Satta, as she hosted the Ryder Cup 2023 opening ceremony, reflects their strong bond and shared moments of pride. While injuries have tested him physically and mentally, Berrettini's positive outlook and rediscovery of his passion for the sport show his commitment to overcoming challenges and returning to top form on the tennis court. His journey of recovery and self-discovery continues, and fans eagerly await his return to competitive tennis.