Los Angeles
Light rain moving through through SoCal Tuesday morning
LOS ANGELES (KABC) — Southern California is seeing some light rain Tuesday amid cloudy conditions and temperatures in the 60s.
The rain is expected to move across the region in the morning, making for a potentially wet commute. The storm will most likely be gone by the afternoon, but Thursday is expected to bring more rain.
Los Angeles and Orange counties on Tuesday could see up to a quarter of an inch of rain and a high of 60 degrees. No rain is expected Wednesday, but conditions will remain cool.
For the valleys and Inland Empire, a quarter of an inch of rain is also possible as temperatures will reach a high of 62 Tuesday. Wednesday will be cool and sunny in the afternoon, but a chance of rain returns Thursday.
Beaches on Tuesday will see light rain and a high of 63.
Mountain areas won't see any snow Tuesday, however, a half an inch of rain is possible amid a high of 47. Temperatures drop to 28 degrees at night.
Deserts on Tuesday will see some rain as temperatures reach a high of 67.
Get the latest updates on the weather with the Free ABC7 Los Angeles app
Download the ABC7 app for weather alerts: Click here for iOS devices | click here for Android devices. If you have the app, turn on push notifications and personalize the app. Click on My News from the bottom menu, then star the topics you'd like to follow and tap Done.
Live radar: abc7.la/LiveMEGADOPPLER
Watches/Warnings: abc7.la/WxWarnings
Download the free Accuweather app for iPhone and Android devices.
Share your weather pictures and video with #ABC7Eyewitness
7-Day Forecasts
Los Angeles / Orange County Weather Forecast
Valleys and Inland Empire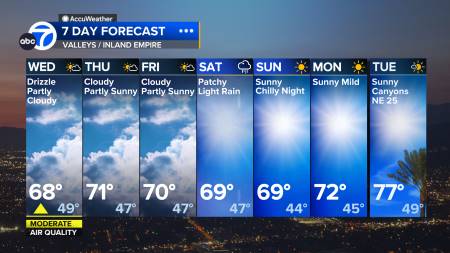 Beaches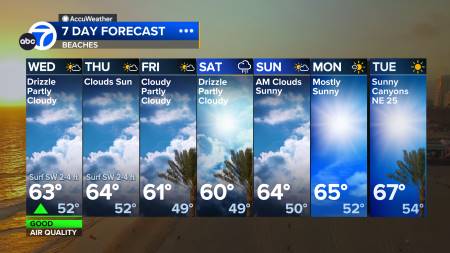 Mountains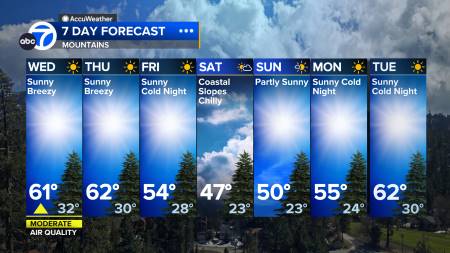 Deserts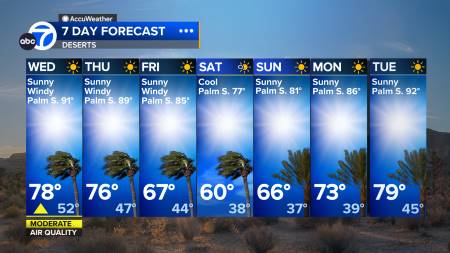 Copyright © 2021 KABC Television, LLC. All rights reserved.
Share this news on your Fb,Twitter and Whatsapp