Movie/tv News
Snake Eyes Early Reviews Criticize Dull Reboot Despite Cool Action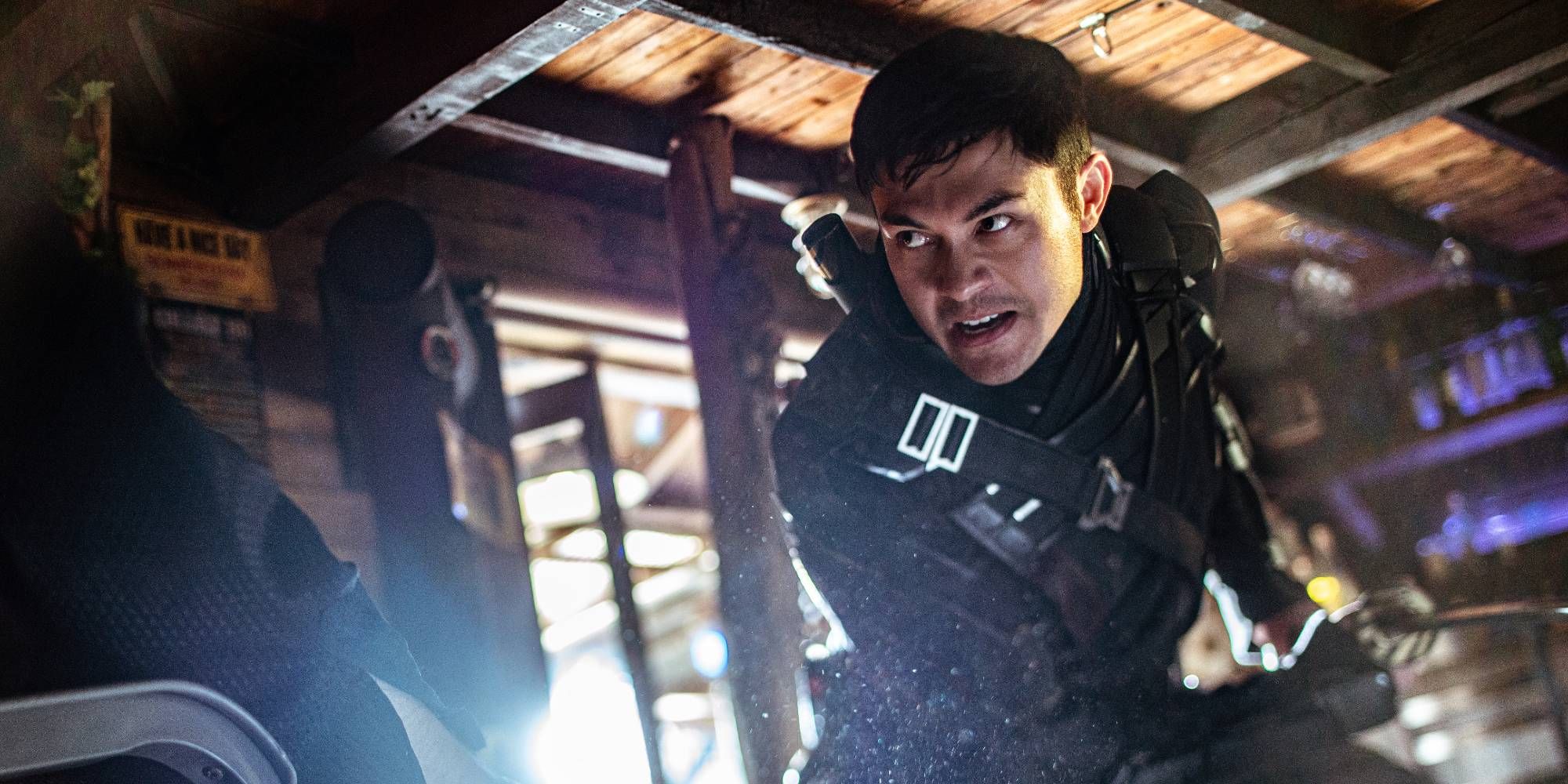 The first Snake Eyes: G.I. Joe Origins movie reviews are rolling out and the results are an improvement for the franchise but not by much. The action film marks the latest installment in the live-action adaptation of Hasbro's G.I. Joe toy line and explores the origin story of its titular ninja. Snake Eyes stars Henry Golding as the future Joe alongside Andrew Koji as Tommy Arashikage, aka Storm Shadow, Úrsula Corberó as the Baroness, Samara Weaving as Scarlett, Iko Uwais as Hard Master and Peter Mensah as Blind Master.
Development on Snake Eyes began five years after G.I. Joe: Retaliation hit theaters to generally negative reviews from critics but better box office returns than its predecessor. Following the critical success of Bumblebee, Paramount's soft reboot-prequel to fellow Hasbro film franchise Transformers, the studio elected to take a similar approach for G.I. Joe and focus on the fan-favorite ninja. After over a year of release delays due to the ongoing COVID-19 pandemic, the film's release is right around the corner and Paramount is hosting critics screenings.
Related: How Snake Eyes Confirms Iko Uwais As A Martial Arts Movie Legend
Just a day prior to the film's release, critics have begun sharing their thoughts on Snake Eyes: G.I. Joe Origins and the results are a pretty rough start for the film. Though most Snake Eyes reviews are shining a positive light on the action sequences and Robert Schwentke's direction of them, many are finding themselves underwhelmed by its story, calling it predictable and dull. See what critics are saying below:
Molly Freeman, Screen Rant: 
Perhaps the biggest strength of Snake Eyes are the action scenes, which are frenetic and energetic – though Schwentke's overabundant use of shaky cam is at times frustrating as it turns the fight scenes into confusing flashes of movement with little sense. When the fight choreography is allowed to shine, though, that's where Snake Eyes' action really flourishes. And the action scenes arrive often enough to keep the film's less than compelling story moving forward. There are plenty of ideas in Snake Eyes that have potential, but few actually meet expectations. 
Brandon Katz, Observer:
Now the film is shot well enough by cinematographer Bojan Bazelli, with director Robert Schwentke (The Divergent Series: Insurgent) showing off a few signs of life. The overuse of shaky cam is a bit much in the action scenes, but mobile shots, unique angles and tight closeups provide the story with enough fluid movement to occasionally earn your attention. The fight choreography is often impressive. But the script is pockmarked with cliches, tropes and never-ending predictability.
Lindsey Bahr, Associated Press:
The true sin is that Snake Eyes as a character is so deathly dull. He barely has a personality. He is purely driven by revenge and also doesn't seem to have to work all that hard at anything. It's frustrating because he's actually surrounded by some fairly interesting characters, like the naive but arrogant Tommy, who is desperate for his grandmother's approval (Eri Ishida plays Sen, who leads the clan). And there's Akiko too, played by Haruka Abe, who is not a blood relation in the clan but has risen through skill and grit to become one of the trusted inner circle. Either of these women's stories would have been more interesting to focus on and hopefully we'll be seeing Abe on screen again soon.
William Bibbiani, The Wrap:
Since the early days of the cartoon series (and fleshed out particularly well in Larry Hama's run in the Marvel G.I. Joe comic books), Snake Eyes and Storm Shadow have been trapped in a seemingly never-ending cycle of jealousy, betrayal, murder, mistaken identity, and revenge. Their backstory is the closest that G.I. Joe has probably ever come to Shakespeare — which is to say not especially close, but pretty darned good for a franchise that was specifically created to sell toys to children. So it's frustrating to watch Schwentke's film Snake Eyes transform that saga into a dispassionate and mediocre action movie. The drama is muddled, the action is murky, and the storyline can't help but get goofier and goofier until, by the end, every attempt this movie makes to ground the G.I. Joe series gets blown up. It's hardly the worst film the G.I. Joe series has delivered, but it's certainly the least interesting.
Richard Roeper, Chicago Sun-Times:
Henry Golding is a charming and likable fellow who gave a true movie-star performance in Crazy Rich Asians and did an impressive villainous turn in Guy Ritchie's The Gentlemen, but he's just too soft and non-threatening a presence to play Snake Eyes, who has spent his entire adult life looking for the man who killed his father when he was just a little Snake Eyes. We're told this man is filled with bitterness and a thirst for vengeance, but it never FEELS as if he's filled with bitterness and a thirst for vengeance.
Glenn Kelly, New York Times:
For an ostensible action hero, Henry Golding in the title role does an awful lot of standing around and looking tense. The mayhem is frantic yet forgettable, and the possibly inadvertent goofiness extends from dialogue humdingers like "For 600 years, our ninjas have brought peace and stability to Japan" to a central-casting villainess who looks like she has a side gig as a dominatrix.
David Ehrlich, IndieWire:
The results are absolutely perverse for a popcorn movie about the silkiest fighter in the G.I. Joe universe, a character whose two defining characteristics are "dresses like a BDSM ninja" and "looks sick as hell when slicing up bad guys." Whatever the faults of Retaliation, at least Chu understood that much. Whatever the merits of Snake Eyes, Schwentke gets it so wrong that it almost feels like he was trying to sabotage the movie from the inside out (a very Cobra thing to do). A more generous interpretation would be that Schwentke was leaning in to the rare summer blockbuster that largely eschews supernatural nonsense and CGI-heavy setpieces in favor of something more physical, and — in essence — Snake Eyes often feels like a refreshing change of pace for both of those reasons.
John DeFore, The Hollywood Reporter:
It's all a lot to stuff into a movie that should've been leaner and meaner, not to mention more palpably violent. (Despite the hundreds of swords slashing through the air in this PG-13 adventure, the only blood we see is extracted peacefully, for a DNA test.) Then again, wishing for stronger dramatic development and punchier action may be naive when you're watching a movie from the producer of the Transformers series, another throwback to the age when TV cartoons were essentially just cheap infomercials for new toys.
Owen Gleiberman, Variety:
Snake Eyes, as directed by Robert Schwentke (The Divergent Series: Insurgent), has style and verve, with a diabolical family plot that creates a reasonable quota of actual drama. The movie is also a synthetic but exuberantly skillful big-studio hodgepodge of ninja films, wuxia films, yakuza films, and international revenge films. The fight scenes are staged with a slashing precision, and the whole movie, as shot by the cinematographer Bojan Bazelli, has an enveloping night-bloom look to it. For a kids' franchise movie, it's pretty good, but the main headline is this: Henry Golding has to be seriously considered for the role of James Bond. Snake Eyes makes it clear that he's got the beauty, the cool, the glamour, the danger, the magnetism, and that essential Bond quality — the ability to telegraph the most lethal thoughts to an audience without saying a word.
Michael Ordoña, Los Angeles Times:
Though it couldn't have augured well for fans that the film's titling convention hearkens to the widely reviled Fox-Marvel X-Men Origins: Wolverine, Snake Eyes: G.I. Joe Origins ends up having enough good-time action sequences to make it worth the popcorn money. That's just how it rolls.
Eric Eisenberg, CinemaBlend:
In modern franchise filmmaking, origin stories play a key role. In essence, they are meant to be a launching pad – adding greater depth and history to particular characters in the aim of expanding fan bases and building potential for the future. In this regard, Robert Schwentke's Snake Eyes: G.I. Joe Origins is technically successful… though in ways unexpected and surprising. Why? Because while the title of the new film suggests that Henry Golding's central protagonist is the main event, co-star Andrew Koji winds up pulling off one of the more impressive spotlight-stealing performances in recent memory as Tommy, the friend of Snake Eyes' whom fans know eventually becomes the villainous Cobra agent known as Storm Shadow. This inherently isn't a bad thing, as there's nothing generally wrong with a supporting player outshining a lead – but the circumstance does encapsulate what is ultimately the biggest issue with the movie: a lack of focus.
Charles Bramesco, The Guardian:
Technical accomplishment is supposed to be the draw in a set-up like this, a bargain that Schwentke cannot fulfill. The bloodless PG-13 deathstrikes never land with a satisfying force, a hollowness echoed in a drab CGI set piece pitting Snake Eyes against three oversized serpents. Despite the undeniable movie-star pull exuded by Henry Golding, he looks like a pretty-boy dabbler next to a cast stocked with veteran hand-to-hand experts like Iko Uwais, Andrew Koji and Peter Mensah. (Maybe the shamanic blind master played by Mensah could sustain a spin-off of his own in eight more years, like a presidential term.) An effort to obscure that much might explain all the nauseating handheld shooting, which chops the choreography to bits until the stilled, more orderly final reckoning.
Brian Truitt, USA Today:
The action sequences also don't disappoint, from bullet-riddled nighttime car chases to sword fights in the rain on neon-lit Japanese rooftops. Even when Snake Eyes' core personal story gets lost a little in the larger global stakes, the film has an unrelenting sense of style with a few hints of over-the-top absurdity that act as a throwback to the film's Reagan-era, Saturday morning cartoon source material.
Given how lowly-rated the first two installments were in the G.I. Joe franchise, the bar was already set pretty low for Snake Eyes by most people, but the mixed-to-negative early reception is sure to still disappoint some. With Bumblebee having seemingly pointed towards Paramount learning their lessons from the prior Transformers film, taking the similar soft reboot-prequel approach for the G.I. Joe film had many hoping the studio could continue its winning streak. Additionally, with Crazy Rich Asians breakout Golding leading the cast, many were open to forgiving the film for having a talkative Snake Eyes in comparison to his typically-silent nature.
Despite the criticism directed towards much of its story, the early Snake Eyes: G.I. Joe Origins movie reviews aren't entirely a deterrent. With praise still going towards the action and the character development for Storm Shadow and the bond between him and Golding's hero, longtime fans of the franchise may still get the origin story they deserve. Only time will tell when the film hits theaters Friday.
More: Snake Eyes: Where You've Seen The Cast Before
Sources: Various [see links above]
Snake Eyes: G.I. Joe Origins (2021)Release date: Jul 23, 2021
All iOS Users Can Now Protect Their Chrome Incognito Tabs With Face ID
About The Author
Share this news on your Fb,Twitter and Whatsapp